Williamsburg Attractions
Explore the most exciting Williamsburg attractions during your vacation to the Historic Triangle.  Enjoy world famous theme parks such as Busch Gardens & Water Country and experience over 300 years of early American history in downtown Colonial Williamsburg. Visit the nearby Jamestown Settlement where the first English Colony was established and also Historic Yorktown, where Corn Wallace surrendered to George Washington ending the American Revolutionary War on Oct. 19th , 1781.
Busch Gardens

Busch Gardens Williamsburg is one of the areas biggest attractions. The European themed amusement park offers exciting roller coasters, gourmet restaurants, challenging games and specialty shops. There are also live shows performed daily throughout the park by character actors and also host famous bands, singers & other musicians from around the world.
Busch Gardens also is home to one of the fastest and tallest roller coasters in the world called "The Griffon"? This 205 foot tall roller coaster has a breath-taking 90 degree drop straight down at 70 mph but you'll need to ride it to experience the rest. Busch Gardens in Williamsburg is now open for Howl-O-Scream on weekends until 10pm.
Click Here To Get 2 Free Busch Gardens Tickets
Experience over 300 years of exciting history in downtown Williamsburg, the largest outdoor museum in the USA. Visit trade sites and talk to live interpreters dressed in colonial Costume. Children and adults may participate in special daily events, arts & crafts and live reenactments from periods in our nations history. Tour the 18th Century buildings, including the Governors Palace, that have been fully restored to reveal their architectural splendor. Colonial Williamsburg is open daily from 9am til 5pm.
Click Here to Get 2 Free Williamsburg Tickets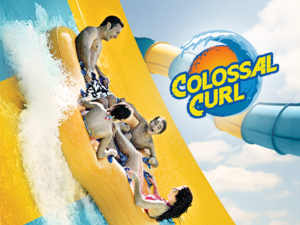 Stop in for a splash and some of wet & wild fun visit Water Country USA, the largest outdoor water park on the east coast. Enjoy more than 20 cool rides on a hot summer day, including water slides, tubing, a lazy river and exciting high-dive shows performed daily. You'll also find great food, souvenirs shops and a few challenging games to play.
Kiddy pools & rides are available for the small children and they also have big wave pool and lounge areas to relax in. Water Country USA is currently closed until May 2019
Jamestown Settlement
History repeats itself in the region at the Jamestown Settlement, when approximately 400 years ago the first permanent settlers in North America settled on the James River. See the excavations taking place and explore the fort where live interpreters are dressed in costume performing in character.
Located less than 10 minutes away by car from downtown Williamsburg, Jamestown is a unique recreation of the 17th century, complete with three full scale replicas of sailing vessels dating all the way back to 1607. Don't miss this opportunity to experience the beginning of our adventurous past at Jamestown. The Jamestown Settlement is open daily from 9am to 5pm.
Historic Yorktown
Yorktown Virginia is a small town with many years significant of American History. In 1781 George Washington led his troops into battle and won the American Revolutionary War. Lord Corn Wallis surrendered his army on Oct 19, 1781 to the American and French allies on what is now called "Surrender "Field".
Yorktown is a part of the Historical Triangle and offers several museums to tour, restored colonial homes and a very scenic river front view on Water Street. You'll also find a beautiful beach to relax on and a boardwalk with few souvenir shops and some great restaurants in Historic Yorktown. Historic Yorktown is open daily from 9am to 5pm
Jamestown Discovery Boat Tours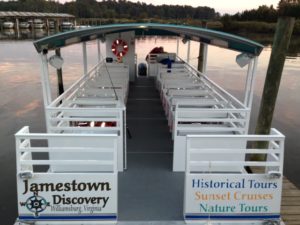 Jamestown Discovery boat tours is one of the areas newest and exciting attractions. Climb aboard the new 28 passenger luxury pontoon boat for a memorable and picturesque view of the James River and the rich history of the Jamestown Island & Settlement. Sunset tours, historical tours and nature tours are available for Private Charters, Special Events or Tour Groups.
The "Jamestown Discovery" is owned and operated by Master Captain Corey J. Fenton, a local native and long-time waterman of the James River and it's surrounding waters. We hope to see you aboard our spacious U.S.C.G certified pontoon boat, soon". – Capt. Corey J. Fenton.